The dove
Sweet symbol of peace, there are many legends about its origin but its goodness is a certainty.
His creations are all united by the deep respect of the criteria at the basis of true craftsmanship. His doves, free of dyes and preservatives, they are born from the living Mother yeast, obtained from the natural fermentation of flour and water. The choice of excellent raw materials and natural ingredients, combined with a long leavening 36 ore, they guarantee its products not only softness, flavor and fragrance, but give it a high digestibility, making them unique!
The Riggiola
Packaging pcs. 16 + 1 / Weight: 425g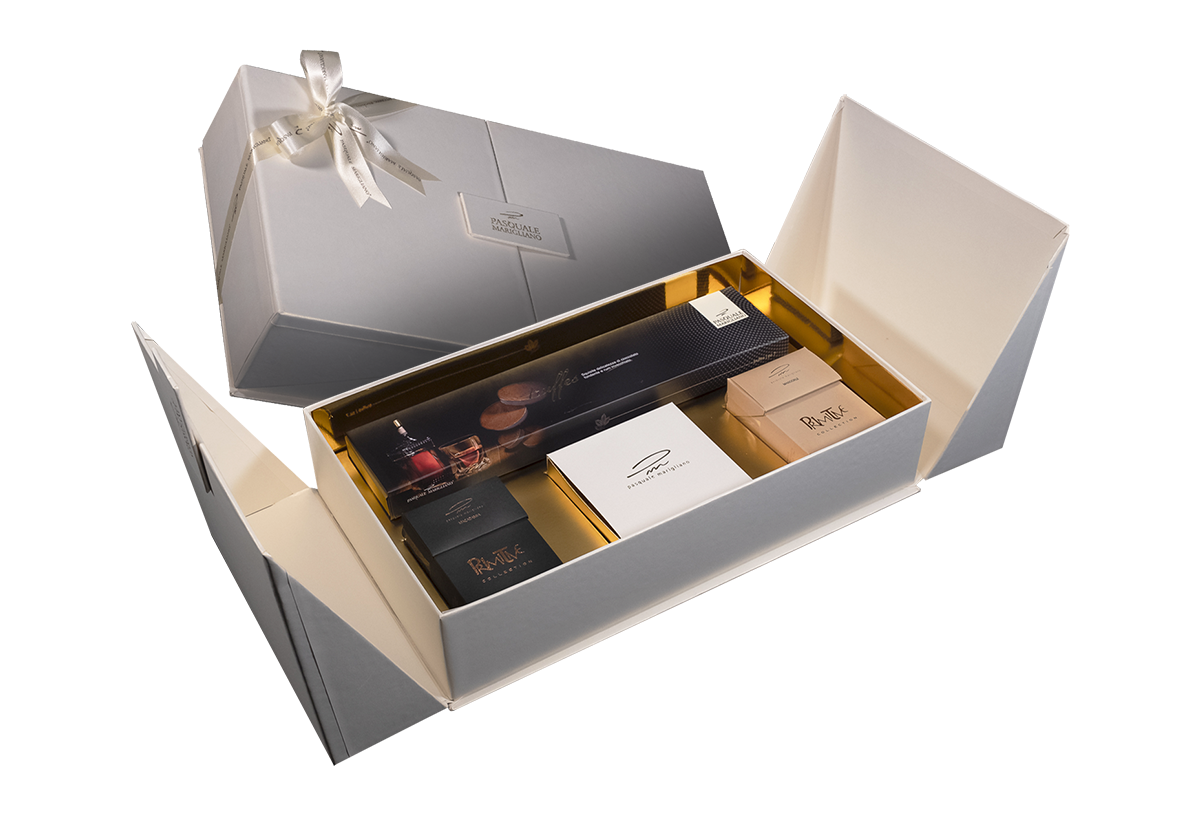 Cofanetto Luxury
The package contains 4 products.
truffles
Awards Gambero Rosso, 2015
the pods
Packs of: 4, 12, 18, 36.
History
PASQUALE MARIGLIANO AND ITS PHILOSOPHY OF TASTE
You watch him work and discover that ingredient which then so much mysterious secret is not because his dedication, that characterizes every creation, It is visible to anyone who is next, even for a short. And if Truffaut was convinced that in six years we already know who we are, phrase was never more apt to Pasquale Marigliano, that since, extra small, He discovered his talent for Pâtisserie no longer has ceased to pursue his dream.
In the area of ​​its confectioneries, mature talent, passion and begins the path of knowledge of the area. A path made of sacrifices, brave decisions, determination and conviction. There comes so, almost naturally, The decision to leave the country in his pocket his ambitions and that thirst to learn that you can not drive it to Paris, taste Mecca for anyone who decides to take this art.
The places of taste
December 2016: the turning point ... Pasquale Marigliano opens in Nola, a show room of 400 square meters from where free rein to his creativity through a breakfast worked strictly with butter, passing through the savory pastries without forgetting its Italian-French delicacies and chocolate. With the title "Confectioner of the Year 2016/2017" - Lifetime Achievement Award, assigned dall'AMPI, It is consecrated his commitment and constant efforts in the search for a genuine pastry with a modern twist.
To act as a side dish, the conviction that the current idea of ​​pastry, especially that Neapolitan can and must change along with it, ideas, tastes and habits. And if that means giving up please everyone, But fully demonstrates the passion that is not willing to compromise, and that for this, He has already won many admirers abroad as Spain and Russia.