A sensory journey through the best plantations of cocoa beans: Ecuador, Brazil, Madagascar.

With the Line of Chocolate, Pasquale Marigliano invites us to a real sensory journey that takes us beyond Italy, best plantations in Ecuador, Brazil, Madagascar where they come from cocoa beans, origin of its chocolate creations. Among the products facing the Maître Chocolatier, There are endless temptations, all enclosed in elegant packaging.
The Riggiola
when Chocolate marries Art, Riggiola is born, from the hands of the Maître chocolatier Pasquale Marigliano.
Contents of the refined package:
16 small riggiole made with a fine chocolate from Peru al 76%, with aromatic notes of honey, dried fruit and spices.

1 milk chocolate riggiola from the Ivory Coast, al 41% with toasted hazelnuts from Giffoni.
Packaging pcs. 16 + 1 / Weight: 425g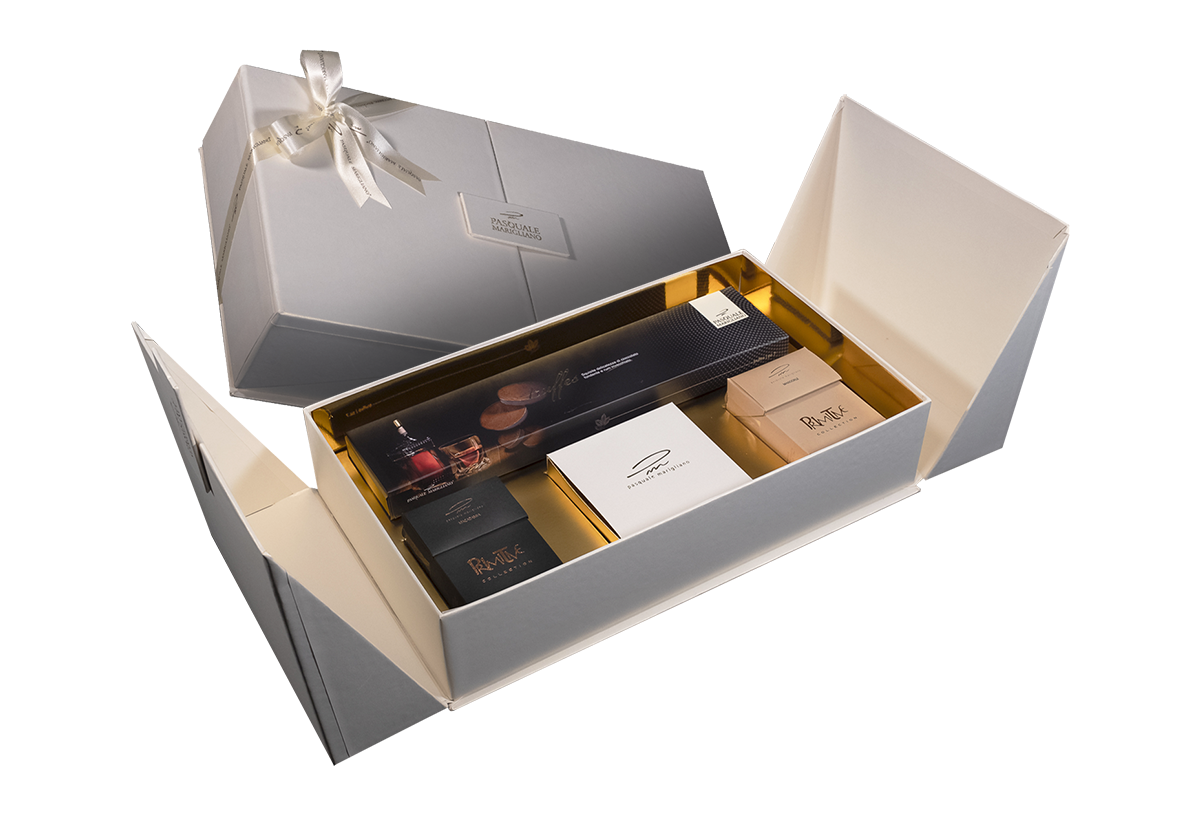 Cofanetto Luxury
Content:
Truffes with aged rum (the must of the Maison). – pz.7

A box of refined pralines (pz.9) to taste say: 5 spices, latte, crunchy and Vesuvio Buono (the timeless chocolate that crackles in the mouth).

Primitive:




– praline almonds covered with dark chocolate al 72% (100g)




– precious macadamia nuts wrapped in chocolate 75% and finished with cocoa (100g)
The box contains 4 packs: truffles + Primitive, pz.2 + Box of Pralines
truffles
I must have the truth of the Maison, awarded by Gambero Rosso, and define "mouthfuls of pure enjoyment, enhances the touch of nougat soaked in rum"- a remake of the classic truffle Pasquale Marigliano.
– Awards Gambero Rosso, 2015
the pods
It is a collection of refined pralines, from design inspired by the shape of the fruit of the cocoa, in countless shades of tastes, come: bare the 5 spices, with milk, and coffee and Crêpes dentelle, or the unmissable Vesuvius Good (a delicious praline hazelnut), that "crackles" in the mouth, melts.